The pilot phase for SAP Innovation and Optimization Pathfinder 2.0 has started, and we encourage you to invite your customers to join.
This customer-specific report helps to bridge conversations between IT and line-of-business (LOB) decision makers, by providing fact-based insights and tailored recommendations on the benefits of upgrading from older SAP S/4HANA releases and how to best use SAP Enterprise Support to respond to COVID19, optimize business and IT operations and upgrade to the latest SAP S/4HANA release.
---
HIGHLIGHTS OF PATHFINDER VERSION 2.0
-One joint report for IT and Business, organized by Line of BusinessHIGHLIGHTS OF PATHFINDER VERSION 2.0
-Insights of COVID-19 impact on the industry
-End-to-end business processes insights with 80+ KPIs
-Recommendations "Why upgrade from older S4-releases to release 1909"
-Simplified request process: no need of enhanced Early Watch Alert report anymore
---
PATHFINDER 2.0 – Scope from a customer perspective
Where are areas of business process improvement for my system, and how am I positioned compared to my peers?
Out of SAP's vast offering of SAP Fiori apps, SAP S/4HANA innovations, Intelligent Enterprise or SAP cloud offerings, which are the most relevant ones, based on my system usage today?
If operating an older SAP S/4HANA release: what are most relevant innovations in the latest release of SAP S/4HANA?
Where are potential areas for IT optimization, how to profit most from SAP Maintenance?
---
» Please participate our pilot phase!
All SAP direct customers can participate in the pilot phase by requesting their own, tailored SAP Pathfinder 2.0 report at www.sap.com/Pathfinder2
»Find relevant assets here!
– Request website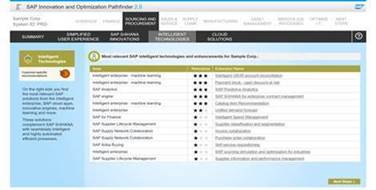 – Customer presentation
– Sample reports for SAP S/4HANA and SAP ERP
– Data request manual
For any question or feedback, please reach out to pathfinder@sap.com
Wassilios Lolas
on behalf of the Customer Value Experience team